On-Board Vehicle Weighing Systems
Major industries that have taken advantage of On-Board Weighing are the Ink, Logging, Mining, Pellet Delivery, Scrap, and Waste industries. Most systems are non-certified. However, certified Legal-for-Trade systems are in use in Europe and are now available again in the USA. Non-certified systems are often used to estimate loads and to avoid expensive overload fines by keeping track of your actual axle loading. Certified Legal-for-Trade systems are used to reduce route time and delivery cost by eliminating the need to drive to a certified Motor Truck Scale and pay for a certified Weight Ticket before and after each delivery. A certified Weight Ticket can be produced from the On-Board Vehicle Weighing System while at the customer's site. Contact us with your requirements.
The scales we sell and service are from quality conscious, ISO accredited, manufacturers.
TradeRoute works with many common straight-truck and trailer designs, but consult us about your specific application as frame styles and axle configurations vary greatly. It uses a system of weigh modules that install around the truck frame. But what makes this system even more unique is the hydraulics. With TradeRoute, the load doesn't rest on the load cells while the truck is in motion. TradeRoute can only be used while the vehicle is parked and the hydraulics engage the load cells. This prevents a lot of excess wear and tear on the load cells and greatly extends the life of your system.
TradeRoute systems include weigh modules in addition to a stainless steel j-box, and a weatherproof control center that houses a 920i® indicator and Epson® TM-U295 ticket printer. By avoiding trips to a certified scale, imagine the driving time, fuel and vehicle wear savings from being able to buy and sell product directly to and from your payload. Then multiply that savings across an entire fleet of trucks. The 920i, customized for each application, records specific weight data from every stop and can then transmit that data back to a central office, eliminating a lot of paperwork and potential errors.
For a driver, knowing his or her truck weight at any given time can be critical. Like any onboard system, TradeRoute allows them to make the most of their capacity without going over, and avoid potential overload fines. Avoid a few of those tickets and an onboard system pays for itself pretty quickly.

TradeRouteTM Legal-for-Trade
On-Board Vehicle Weighing System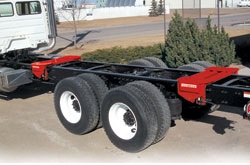 Press Release
Rice Lake acquires division of NORAC Systems International
Rice Lake, WI, October 24th, 2011: In a continuing effort to grow market share in their core markets, Rice Lake Weighing Systems announces their purchase of the weighing division of NORAC Systems International, Inc., a Canadian-based manufacturer of weighing equipment for the agricultural industry.
With this acquisition, Rice Lake takes ownership of NORAC's weight-related products including its patented livestock scales, legal-for-trade on-board vehicle systems, truck scales and more, and assumes all manufacturing, distribution and service oversight. "NORAC's products have a solid reputation and will be a nice complement to our current offering," says Rice Lake vice president,
Mark Johnson, Jr.
NORAC Systems International, in business since 1974, has amassed an impressive lineup of quality scale products which they currently distribute worldwide. According to NORAC President, Bill Strelioff, "This was a strategic decision that will enable NORAC to dedicate more resources to managing the considerable growth of our control systems business."
This acquisition tops an expanding list of recent tactical developments for Rice Lake Weighing Systems, including the expansion of manufacturing to Nevada, the opening of a European service and distribution center, and a joint venture within India. Mark explains, "In order to continue to grow as a business, we want to invest in opportunities and technologies that fit the needs of our customers. Bringing on NORAC's weighing division is going to be an important part of achieving our goals as a company."
Rice Lake Weighing Systems is a family-owned, ISO 9001 certified corporation based in the United States. Headquarters, metrology laboratory and main manufacturing plant are located in Rice Lake, Wisconsin with support facilities throughout the world including North America, South America, India and the Netherlands.
TradeRouteTM Legal-for-Trade
On-Board Vehicle Weighing System

TradeRouteTM Legal-for-Trade
On-Board Vehicle Weighing System
Operator's Manual



Since the beginning Cleral's objective has been to design and sell economical, durable, easy to use, very precise onboard weighing systems that were easily and quickly installed. Today, our dynamic team is proud of being able to offer a complete range of onboard weighing systems that meets these and tough industry requirements. 
Headquartered in Northern Canada, this environment offers us a unique laboratory to test our products. Our weighing systems are tested in operations reaching temperatures of - 40°C and are in every day use in local logging and mining industries. These local branches of industry are known to have some of the most severe operational conditions on the planet. Imagine, onboard scales that work in these extreme industrial and environmental conditions on trucks transporting more than 100 tons!
Cleral's unique approach has redefined onboard weighing technology because you asked for it. You Talk and we Listen.
Used in Europe for many years but new to the USA, PM Onboard Legal-for-Trade Axle Scales will soon be available. The Axle Transducer differential housing mounted scale is designed to provide gross vehicle weight, net payload weight and axle group weights. This information is used in avoiding overload fines, choosing disposal sites, and reducing truck maintenance and liability. The Axle Transducer system can be installed on all types of trucks, including roll offs and dump trucks. The system is available for single and dual rear axle configurations and can be used with pusher, tag or lift axle. Axle group weights are provided for both the front and rear axle groups. Rear only systems are also available. By design, the Axle Transducer system does not require disassembly of the vehicle chassis, suspension and/or body for installation.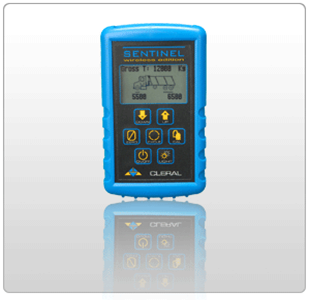 Hand held and wireless the Sentinel displays your weights in real time within a radius of 300' around the tractor and/or trailer. Held in the palm of your hand, this system is very useful monitoring weights from inside or outside the cab while loading. The Sentinel's wireless sensors monitor walking beam, equalizer beam, spring and/or air ride suspensions. The Sentinel can be equipped with RS-232 output for weight data transfer and management. With this system tractors and trailers can be mixed and matched. The calibration data is maintained in a wireless multiplexer connected to the sensors. The display unit will search for and allow you to selectively connect to the wireless multiplexers in range.
This is the economical generation of precise axle weight monitoring systems. Designed for those operators that only need to know their individual payload, total gross and individual axle weights including drop and tag axles all a glance of the cab mounted display. The small easy to read cab mounted display has built in air sensors and, if needed, easy to install mechanical steering and drive axle sensors. The Kiload is the perfect economical choice for straight body trucks.