Medium-Duty Floor Scales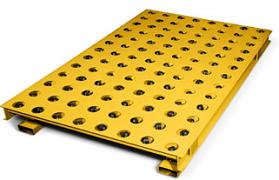 We represent everything from light-duty warehousing scales to the most rugged extreme-duty scales available. The most popular Medium-Duty Floor Scales are 4' X 4' X and 5' X 5' in 5,000-pound or 10,000-pound capacity. We have these available in painted mild steel, USDA Epoxy, and Stainless Steel. For food, chemical, and pharmaceutical applications we have a variety of floor scales that allow easy wash down and cleanup. Many accessories are available to fit your needs. These include ramps, bumper guards, pit frames, indicator stands, and portability frames. The scales we sell and service are from quality conscious, ISO accredited, manufacturers.
The following is representative of what we offer. It is not exclusive. Please Contact Us with your requirements.