Extreme-Duty Floor Scales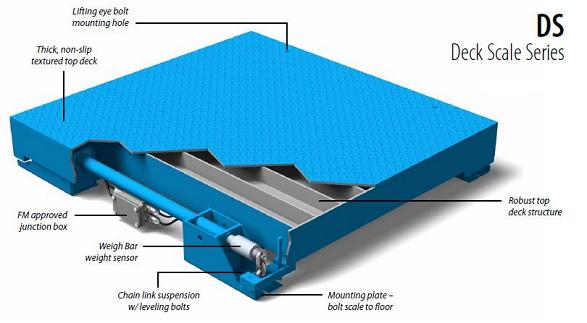 Extreme-Duty Floor Scales use the patented Weigh Bar which is 3X stronger and lasts 10X to 15X longer than load cells. They have more steel content in the scale platform (roughly double the steel content) than Heavy-Duty Floor Scales. They use a chain link suspension to transfer the load from the scale platform to the Weigh Bars. This suspension absorbs much of the shock loading that occurs in heavy industry and it eliminates the problem of bent leveling feet that occurs when scales are hit from the side. This scale was the first Floor Scale to be approved by the National Bureau of Standards (now the National Institute for Standards and Technology or NIST) as Legal-for-Trade. That happened in 1973 and this Extreme-Duty Floor Scale has been the standard for heavy industry ever since. We have scales that have been in service for over 30 years with minimal or no maintenance. We have these available in painted mild steel, USDA Epoxy, and Stainless Steel.  Many accessories are available to fit your needs. These include ramps, bumper guards, pit frames, indicator stands, and portability frames. The scales we sell and service are from quality conscious, ISO accredited, manufacturers.
The following is representative of what we offer. It is not exclusive. Please Contact Us with your requirements.
Avery Weigh-Tronix "DS" Series Extreme-Duty Floor Scales